Back in 2016 my good friend Paul started a thread on the sausagemaking.org forum about making snack stick salami. Nothing new in itself, other than it allowed people to try curing a salami product in a domestic fridge; as such it was pretty ground-breaking.
Over the years the thread has grown as Paul has added further recipes to it. I encourage you to read it as it shows quality products made using best practices.
It's not until now that I've got around to making any myself – it's something quick and fairly easy in salami terms that I'll be making regularly.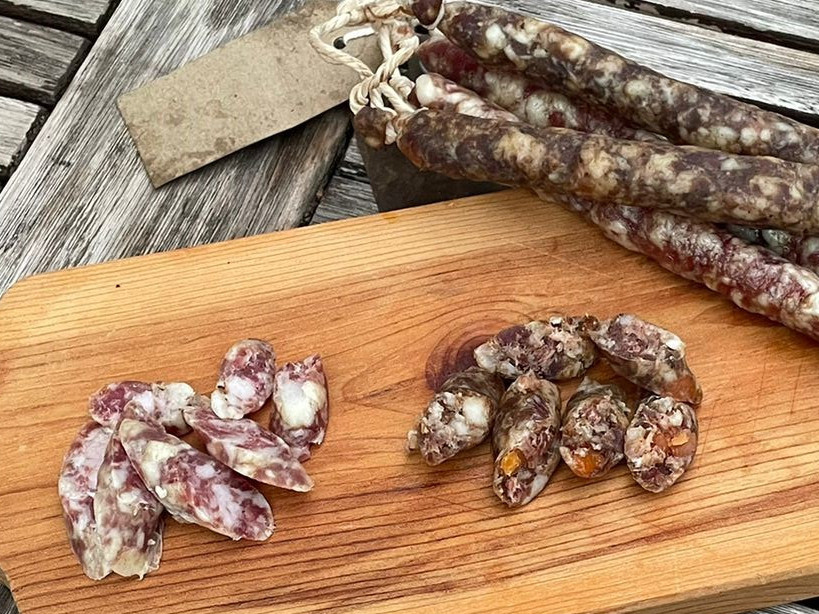 The ones on the left are fuet from the recipe by Jeffrey Weiss in his book Charcuteria – The soul of Spain and the others are an adaption of Paul's cheese and Worcestershire sauce recipe using local Red Leicester cheese and Henderson's relish – a sauce from Sheffield similar (and superior) to Worcestershire sauce. As I'm about equidistant between Sheffield and Worcester I could claim either as being moderately local!
The cheese ones show what happens if you don't mix them enough – they're lacking in bind and have a looser texture. The Fuet are far nicer in the mouth. Both would benefit from a little less fat and to be ground slightly finer – I used a #8 (5/16″) plate in my mincer/grinder – a #6 (¼") or even a #5 (3/16″) would be better. Other than that, I'm very pleased with them.
We ground the meat using a #8 hole mincer/grinder plate and added the other ingredients including the culture which had been dissolved in a little pure additive-free water. We'll use a #6 hole mincer/grinder plate next time.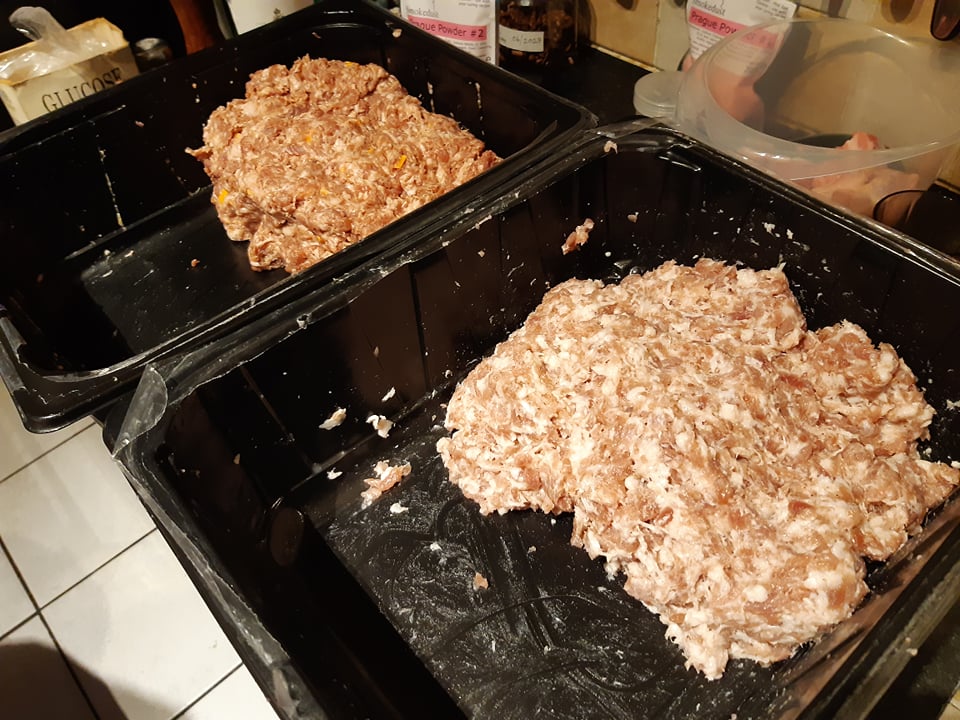 We stuffed it into 24-26mm sheeps' casings.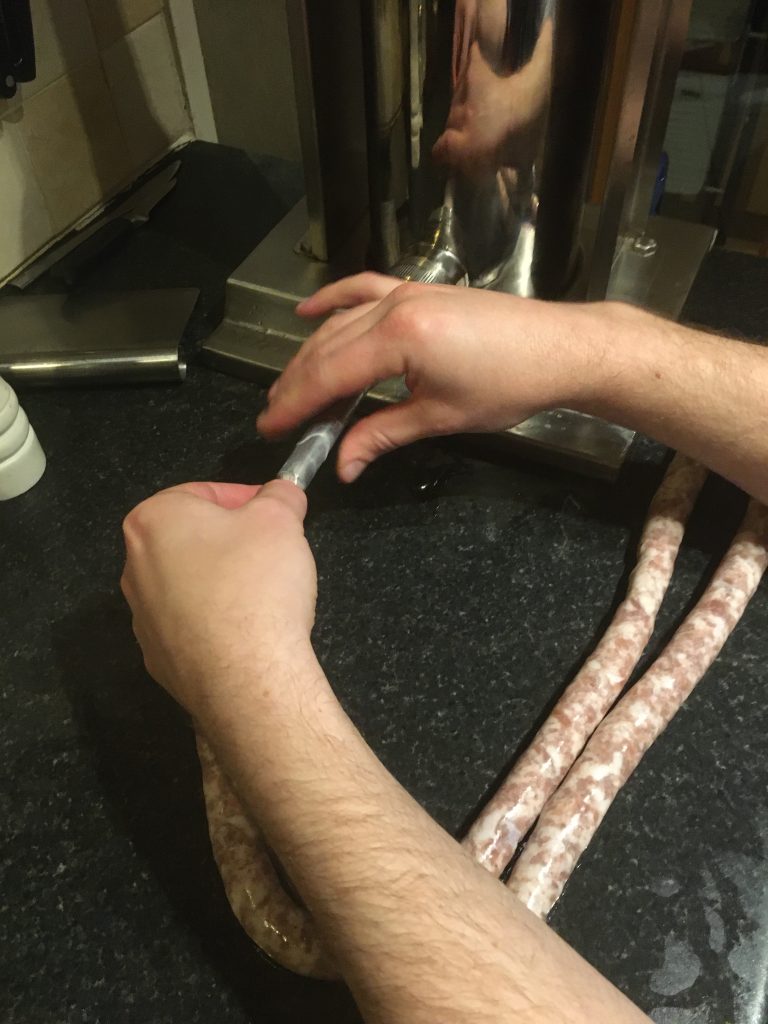 We tied them into lengths – quite long ones in this case a Fuet is Spanish for whip.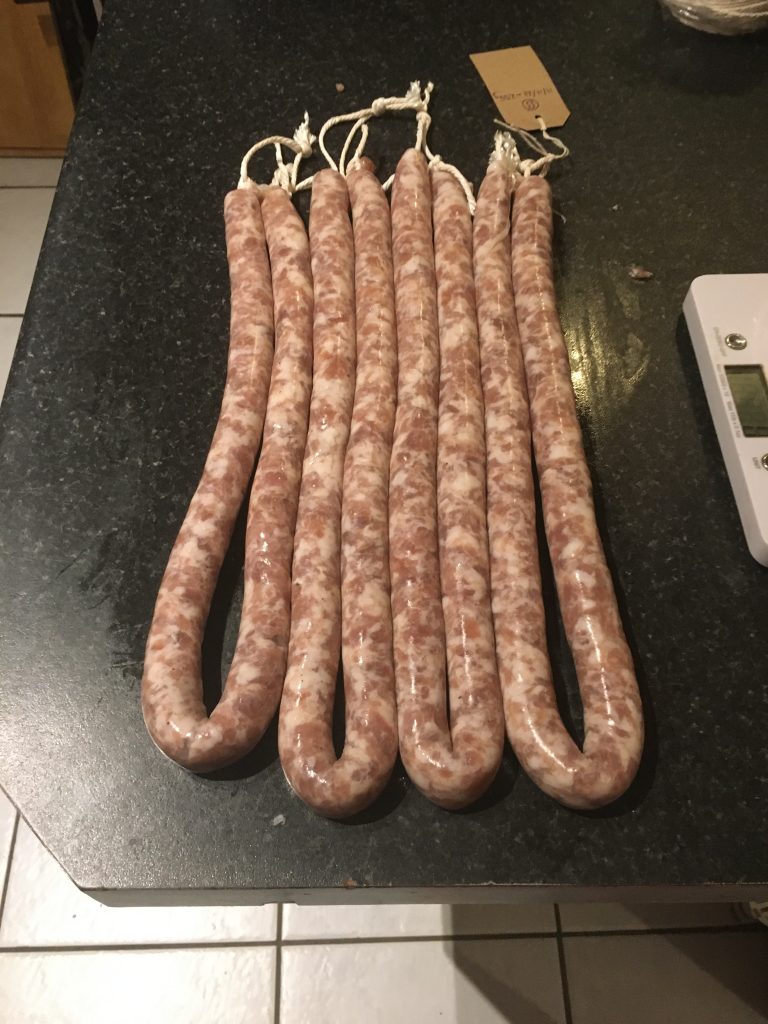 The sausagemeat left in the stuffer tube was kept wrapped in cling-film (food wrap). It was put with the salamis to ferment at 24°C to allow the culture to work and reduce the pH. I have a box set up to do this in; it has a lightbulb to heat it; I was too lazy to ask one of the lads to get it from the loft so I used my bain-marie with an external thermostat to control it – a mistake that I won't repeat. Due to the mass of water the temperature overshoots and undershoots the desired temperature by a large margin.
After 26 hours I tested the pH of the sausage mixes using the leftover sausagemeat saved earlier. The pH had reduced to 4.6 – quite a way below my target. My worry was that they would taste sour but this has not proved the case.
The culture used will ferment slowly at temperatures of 23°C – 24°C but much more quickly at higher temperatures. My thermostat was set to 24°C but due to the overshoot spent much of the time at 28°C-29°C where it ferments very quickly.
The salami were then placed into my drying fridge.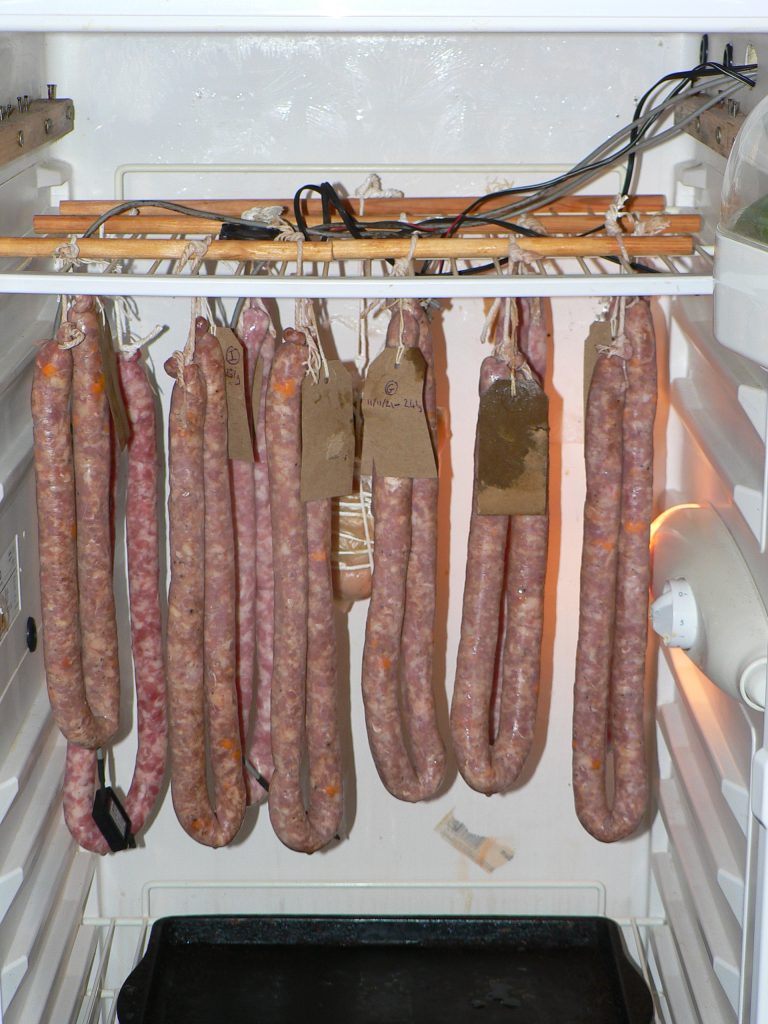 I was surprised how quickly these dried. My chamber was at 10°C with the relative humidity set to 80% and yet they still lost 40% of their weight in 15 days.
I was going to post recipes and a calculator but I don't want to poach Jeffrey Weiss's recipe – in any case, in its amended version it's available from the link in the first paragraph.
Read more about the (modern) salami making production process.