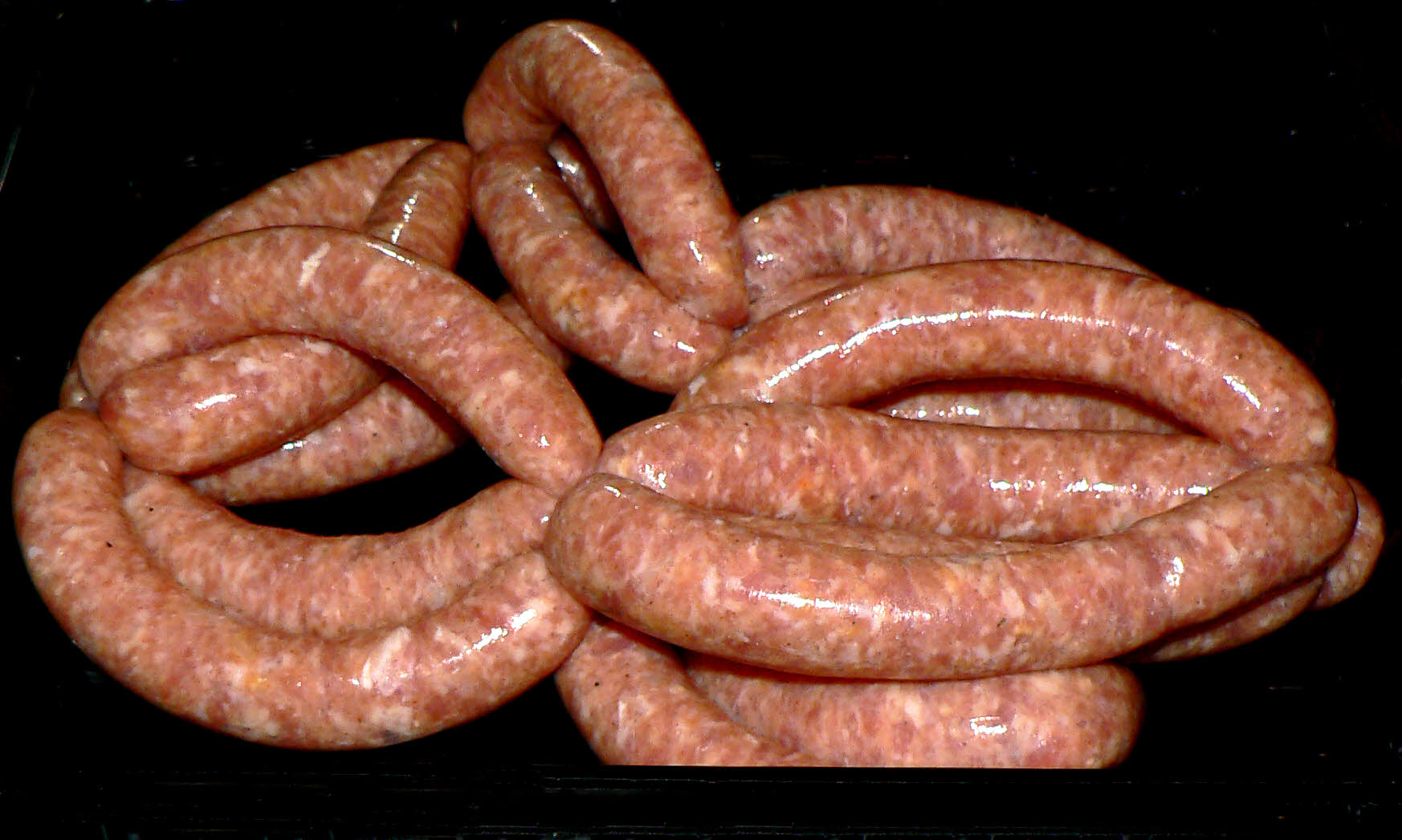 When I came across a sausage called the "Far-Famed Cambridge Sausage" in a 1938 'Handy Guide for Pork Butchers', I couldn't resist making it? But what type of sausage was it?
I'm guessing that it was far better known in those days: I'd only ever heard of it in passing. A quick online search told me that the best know brand was Palethorpe's 'Royal Cambridge sausages', though they were made in Shropshire, and that there were 2,500lbs of them were aboard the Titanic when she sailed on her maiden voyage!
Looking at my books: Anthony and Araminata Hippisley Coxe in the 'Book of Sausages', say "This is probably the most popular sausage in England". Not now it's not: not one of the 'big three' supermarkets sell them!
The 'Book of Sausages' goes on to say that the distinctive flavour is from sage, cayenne, mace, nutmeg, pepper and salt. Other sources omit or have sage as optional. The few places that make it nowadays all seem to include it. Some recipes include ginger and pimento and less commonly mustard. Two recipes, including a butcher's handbook, and a respected traditional curer and sausage-maker, have levels of white pepper of around 1%; a massive amount, similar to a very spicy Cumberland sausage. I think that both must be from the same source and that there was an error in the original because I can find no reference to the taste being very peppery.
What all have in common is the use of scalded (cooked) rice as a 'filler'. This interested me, as on the sausage-making forum we are asked for gluten-free recipes quite often. Now, before anyone tells me, I know that the rusk that I've included in the recipe contains gluten. However, it could be left out with no problem.
As I already make a Lincolnshire Sausage with sage, and as the Cumberland Sausage that I'm working on also contains it, I've chosen to make a version without sage. My recipe is based on 5 recipes from trade handbooks from the 1930's, 40's and 50's.
Scalded Rice

Firstly, prepare some rice: Frank Gerrard, in his book 'Sausage and Small Goods', advises that: "…the chief consideration is the swelling of the rice granules before the mass coagulates". He says to boil rice in 3½ times its volume of water stirring vigorously during cooking, and after the mass has thickened, continue cooking for about 25 minutes. He advises to cool it in shallow trays and then refrigerate. I followed his instructions adding a little paprika in lieu of the food colouring that he says to add. I cooled the rice quickly by spreading it around the perimeter of a bowl that I then placed in another bowl containing iced water.
Cambridge Sausage

Pork with 20% fat 780gm
Scalded rice 150gm
Rusk 50gm
Seasoning mix (below) 18gm

Seasoning Mix (Makes double)
Salt 27.5gm
Ground White Pepper 5gm
Ground Mace 1gm
Ground Nutmeg 1gm
Ground Ginger 0.6gm
Ground Cayenne Pepper 0.3gm
Ground Pimento Berries (Allspice) 0.6gm
1. Mince (grind) the meats. I minced it twice through a 6mm mincer plate.
2. Put the meats into a bowl and add the scalded rice, rusk and seasoning.
3. Mix well. It is the mixing that turns to ground meat into sausage meat. Mix until the mixture is 'sticky'. (This is myosin developing, the protein that sticks the sausage together & gives texture, rather like the gluten in bread).
4. If the mixture is too dry, add a little water to loosen it.
5. Fill into sheep's casings.
6. Put into the fridge for 6 – 8 hours to 'bloom' for flavour development.
For other amounts, it's easy if you use the Ingredient Calculator below:
For other amounts, it's easy if you use the Ingredient Calculator below:
My thanks to Robert of Goodricks Meats for supplying me with a recipe from Hammet and Nevell's 1949 book 'A Handbook on Meat and Textbook for Butchers'.