Originally posted in 2008:
Now I know if I call this recipe a Chelsea Bun, someone will come along and say, "Oh, no it's not, a Chelsea bun is made with currants, lemon zest, or whatever and glazed with the milk of a particular species of Yak, only found on one lost island in Battersea Park!" Hence the 'ish' in the title!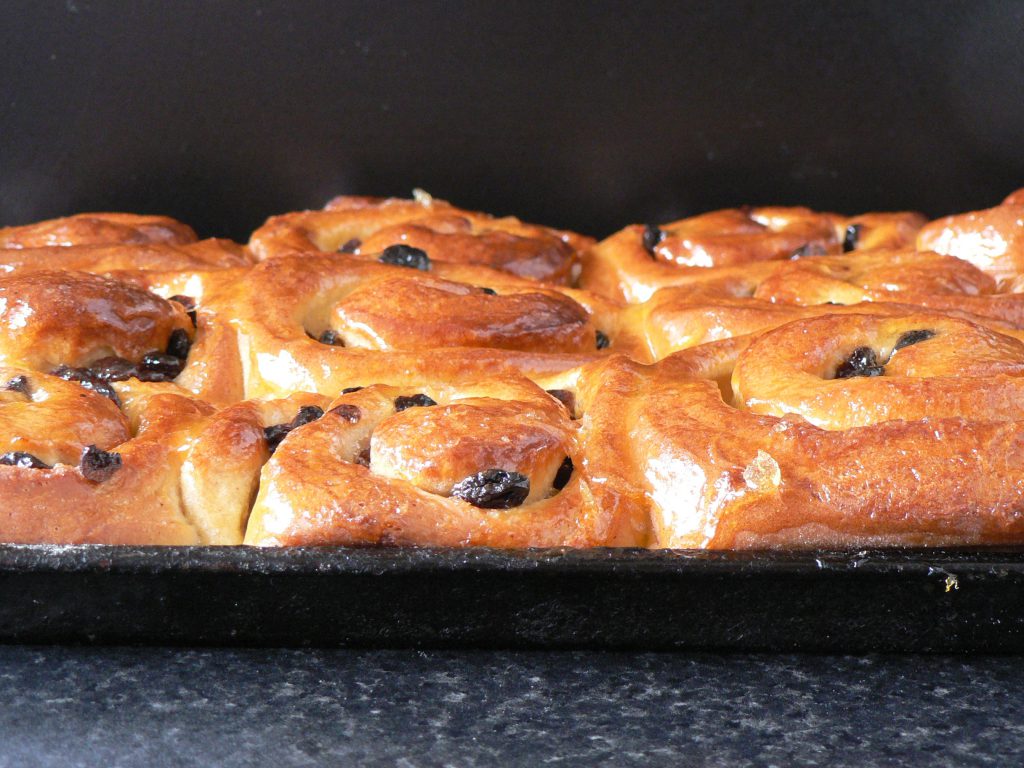 I made these a couple of weeks ago from a recipe in Prue Leith and Caroline Waldegrave's Cookery Bible but wasn't 100% happy with them. Here's my take on the recipe, it still needs fine tweaking, but hey-ho.
Dough
450gm Strong Bread flour
55gm butter
55gm sugar
1 tsp salt
1 tsp mixed spice
2 packets easy blend yeast
200gm milk – tepid
2 eggs
Filling
55gm butter
55gm sugar – plus a bit for tops
80gm raisins – soaked in tea or booze until plump
80gm sultanas – soaked in tea or booze until plump
To finish
Apricot or another glaze.
Method
Put the fruit to soak in sweet cold black tea, or any other fine beverage of choice – brandy would be good.
Melt the butter for the dough (only just get it really soft – not frying temperature). Put all the dough ingredients in a food mixer bowl and, using the dough hook, kneed for 10 minutes – it'll probably be very sticky!.
Shape into a ball on a well-floured surface, return to the bowl, cover, and leave to rise until doubled in size.
Mix (cream) the butter and sugar for the filling together. I may add some cinnamon to it next time.
When the dough has risen, roll it out to a rectangle about 12″ (30cm) wide by as long as you can get it, maybe 16″ (40cm) if you're lucky.
Spread the dough with the butter/sugar mix and spread the (well drained) fruit in a layer over it leaving the last ½" (1cm) uncovered. Roll the dough up into a 'swiss roll' and cut into 12-16 slices.
Put oven to heat on 180°C (350°F).
Place the coils of dough, laid flat, about ¼"-½" (about 10mm) apart in a roasting tin. Leave to rise until doubled in size and all pushing against each other.
Sprinkle with sugar and cook for about 20-25 minutes (the time will vary depending on the oven). Check after 10 minutes and, if they are going very brown, cover loosely with foil.
Cool and glaze with apricot glaze or any other glaze of your choice.
Enjoy!
I fancy varying the recipe next time and using chocolate chips and pieces of pear instead of the dried fruit.