I originally posted this recipe in December 2007 but it proved so popular at a recent buffet that I make no apologies for re-posting it here.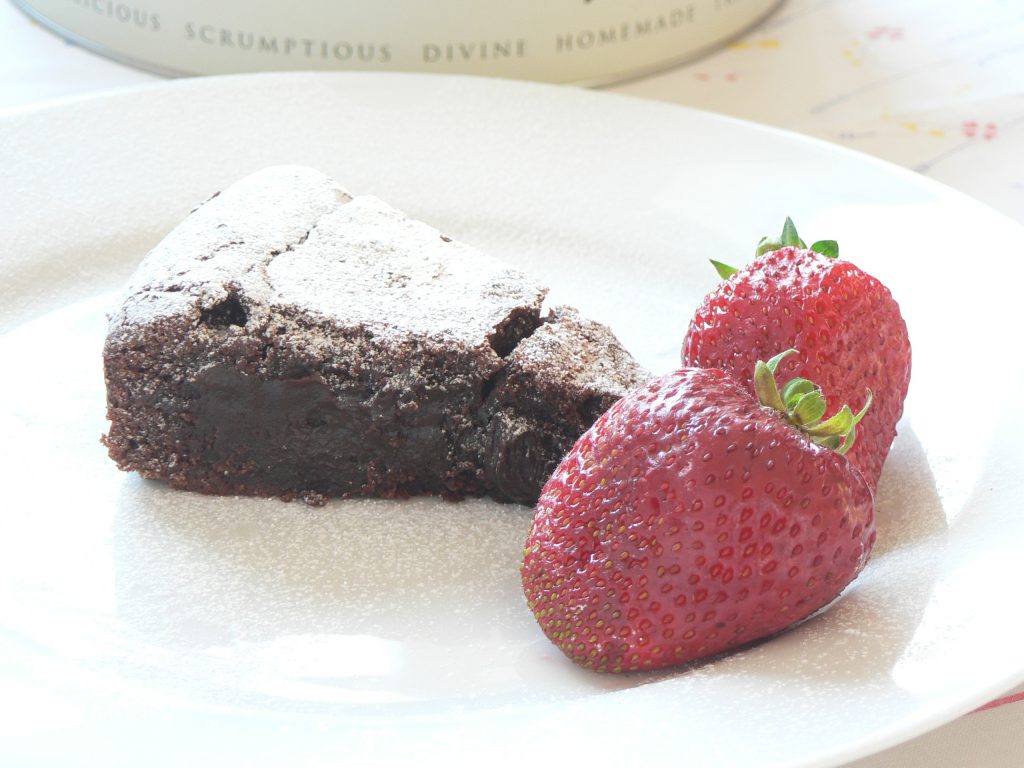 This cake is great! It's really easy to make and more or less foolproof. It also feeds a fair number, as it is very rich.
Ingredients

3½oz (85g) 70% chocolate (broken up)
12oz (350g) butter (in small chunks)
2oz (60g) cocoa (sieved)
3floz (90ml) boiling water (approx.)
14oz (400g) sugar
3 large eggs
7oz (200g) plain flour
Method

1. Melt butter and chocolate, in a bowl over simmering water.
2. Make a paste of the boiling water and cocoa. Remove the bowl from the water, pour the cocoa mix over the chocolate/butter and mix with an electric mixer.
3. Add the sugar, mix, and then mix in the eggs, one at a time.
4. Add the flour, mix, and then beat it on high speed for 1 minute.
5. Bake at 180C in a buttered and floured 9-inch springform tin, lined on the bottom with parchment.
6. Check after about 30–35 mins. A big crack or two will appear when it is cooked but the cake will still wobble when shaken. Depending on the oven, this may take longer.
To finish

7. Allow to cool for 20 mins – remove from springform (do not turn upside down though until cold as it may leak).
8. Leave until cold before use. The cake should 'ooze' chocolate when cut.
It's seriously good