It's not been a very productive week, however, I managed to start off a Lonzino Stagionata. I think this is the correct term for what is a cured air-dried loin of pork, Italian style.
It's basically like a parma ham but from the eye of the loin. Expensive, but superb.
I started off with 4½ kg of pork loin from Joseph Morris's. It was boned and the eye of the loin removed yielding 1½ kg of meat for the Lonzino and a further 2¼ kg of meat/fat that will be used in chorizo.
Now for the cure, what should I use? I am at something of a disadvantage here as I've never tasted Lonzino. Online recipes, of which I found only two from trusted sources, varied considerably in the spices used so I was left with making up my own interpretation from the (little) information available – it's turned out as a sort of combination of the two online recipes. Whether it will be anything like the original is anyone's guess! Anyway, here it is:
For 1 kg meat I used:

Salt 34gm
Sugar 10gm
Cure #2 – 2.4gm
Black Pepper 5gm
Fennel Seeds 4gm
White Pepper 3gm
Garlic Powder 2.5gm
Cinnamon 1gm
Mace 1gm
1 Clove
Grind the spices and mix with the other ingredients. Rub cure into the loin then put it into a food grade bag or vacuum pack it.
It will cure for 10 days or so.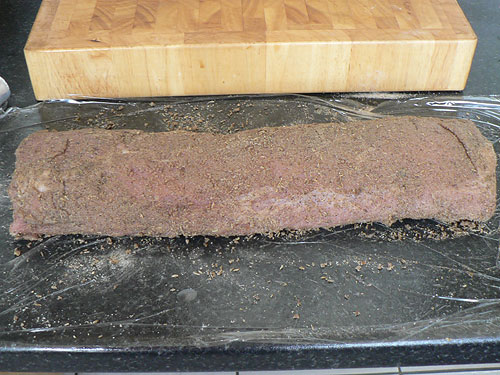 The Lonzino was cured for 12 days. I washed and dried it and put it into a 90mm collagen casing. The casing was tied (badly!) and pricked to aid drying.
I left it drying at 10 – 15°C in a humidity of 60 – 70% (ish) until it lost about 40% of its weight.
The black wires in front of the Lonzino are from the humidity and temperature sensors in the fridge.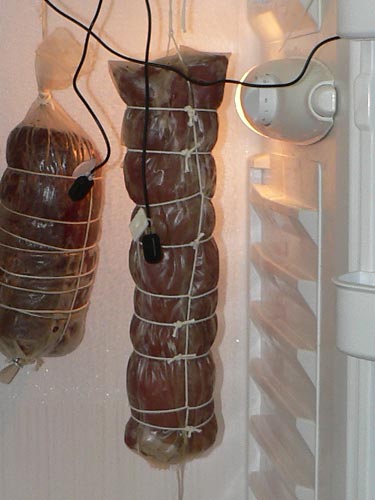 In late August I sliced some of it Getting to that stage was not been without its problems what with a new fridge set up for the drying it's been a case of juggling things about to get the humidity at the correct levels – not helped by the weather we had at the time.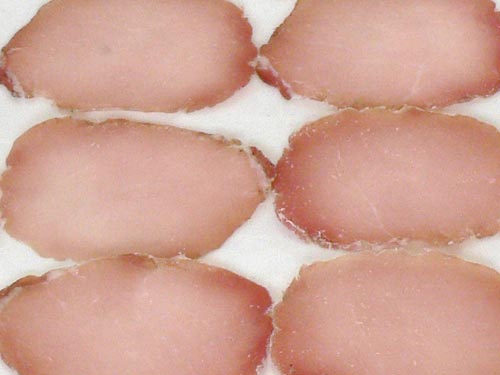 It's a little dry around the edges, surprising as if anything the humidity was a little high in the early stages of drying. I dried it to a 36% weight loss. Next time I'll dry it less and test for water activity to make sure it's safe. I don't think the drying was helped by the small size of the loin or the fact that I de-cased it after about 20 days as some undesirable moulds were starting to form under the casing – I obviously hadn't got it tight enough around the meat. The mould? I brushed that off, rubbed the area with wine vinegar to kill any remaining nasties, and sprayed the meat with Penicillium Candidium – the white mould that is seen on Brie and Camembert cheeses. Within a few days a nice coating of white had appeared: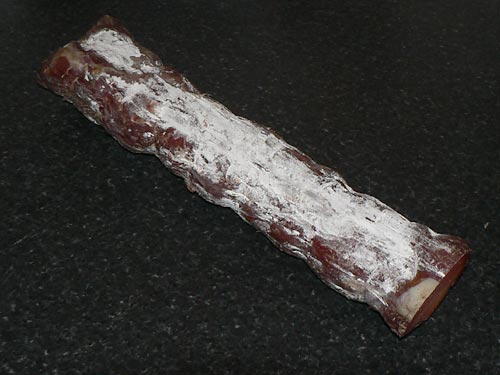 Pauline really likes its fennel overtones; I'm not as keen. Yes I like it, but think I will do a Lomo next time – basically, Lomo's the same thing but with paprika flavours – Spanish as against Italian. That said it'll make a nice addition to the growing charcuterie store.