I don't write much about fresh sausage, mainly because we generally stick to the two recipes I've already put online, my Thurlaston sausage and Lincolnshire sausage. However, I thought I'd do something different for a change and chose to make Pork and Apple sausages. Now I've tried these before and wasn't happy with the results so I trawled the web to see what I could plagiarise from other people! The results received rave reviews from the family, so here's my recipe with thanks to Welsh Wizard and Parson Snows from the sausagemaking.org forum on whose recipes' it's loosely based:
Sausage Seasoning Mix

16g Salt
3g White Pepper
1g Fresh Rosemary
0.5g Dried Sage
Chop Rosemary then mix together well. I mixed them in a coffee grinder.
For 1kg of meat

1kg Locally Produced Pork Shoulder (about 20% visible fat)
85g Rusk
40g Dried Apple
110g Apple juice plus extra (see below)
20.5g Seasoning mix (above)
Start with about 400ml of good-quality apple juice. Boil it in a pan until it is reduced by half and leave it to cool. Then soak the dried apples in it for about 1 hour before chopping them.
Having kept the pork in a very cold fridge, mince it. I minced it through a plate with 6mm holes and then through one with 4.5mm holes. Add the rusk, seasoning, and chopped apple and then pour 110gm (110ml roughly) of the remaining apple juice over. Either mix by hand until you think you're going to get frostbite or use a Kenwood-type food mixer (not a food processor) to mix it for 3 or 4 minutes until the mixture is sticky sausage meat. That is, it changes from just a burger-type mix into a sticky mass; the smell seems to change too. It's hard to describe but you need to do this to develop the myosin in the meat that will stop the sausage from becoming dry and crumbly when you cook it. You may need to add a little more apple juice to get a good mix. Don't add more than an extra 20ml – 25ml though, otherwise, the sausage will spit like a camel when you fry it!
Stuff the sausage into pre-soaked casings (follow the supplier's advice for soaking the casings), then hang them to 'bloom' (develop flavour) in the fridge for 6 – 8 hours. Some fridges are very dry so check the sausages regularly and if they appear to be drying out too quickly put them on a tray and cover them for the rest of the 'blooming' period.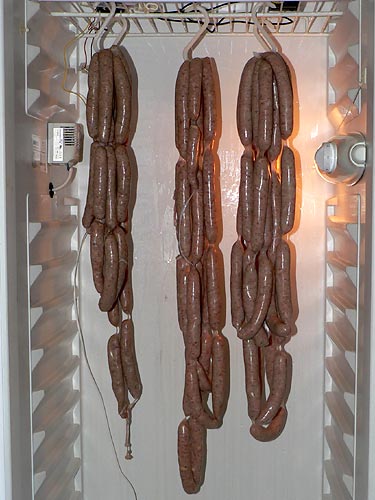 You could use cider instead of apple juice in this recipe. Preferably a local one.
The only disappointing thing about these sausages is that I had to buy imported dried apples; it looks like I'm going to have to dry some myself when they're next in season