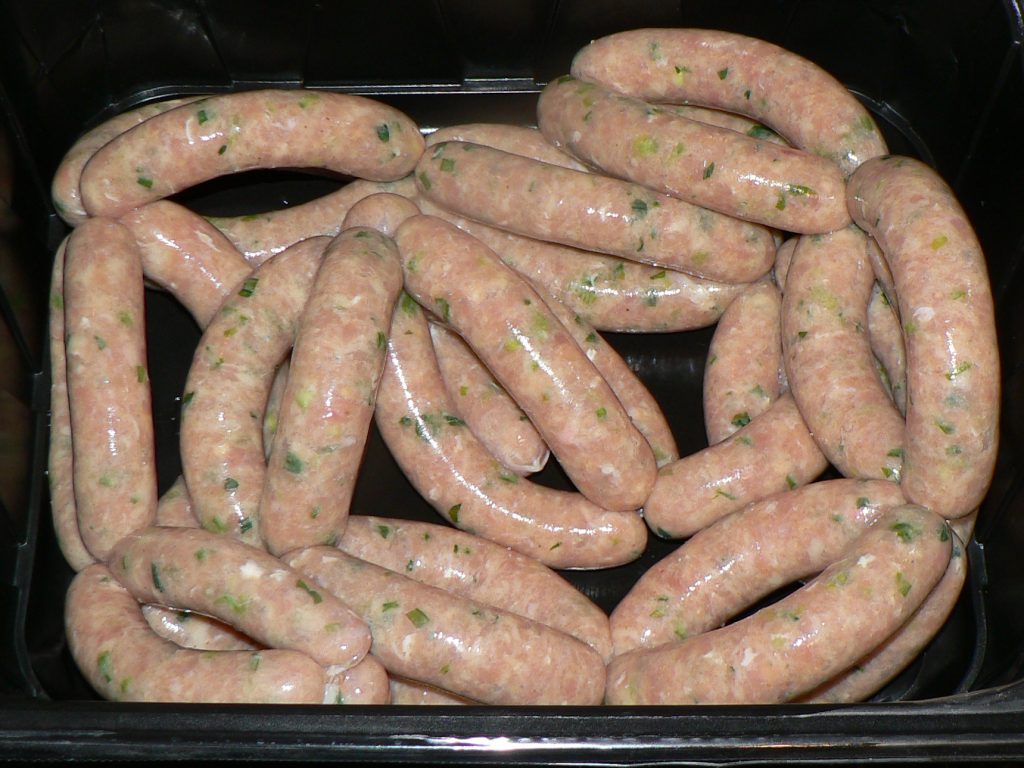 I've been looking for a good recipe for chicken sausage and back in October, I made one that was devised by a friend and was flavoured with thyme, lemon and garlic having been inspired by Chef Thomas Keller's famous recipe for chicken brine. I was so confident that it would be great that I even posted a 'coming soon' photo. After all, what's not to like? They're a classic combination. Well, somewhat embarrassingly, the family didn't like it. I'm sure others will though and the recipe's here for people who want to try it… …and I encourage you to do so.
But, for me, it was back to the drawing board. I had a play around with a couple of mixes using herbs and finally settled on making a chicken sausage with spring onion/scallion. I've been busy with other things so it's taken until now to get the recipe to a stage where I feel it's fit to share.
The recipe uses chicken thighs. In the early trials, I cooked the skin from the thighs until crisp and ground this with the meat. It was good and I'll no doubt incorporate it in a sausage in the future but this time I've settled on a recipe that uses only the thigh meat and the fat that's attached to it. This has the advantage of allowing me to use boneless skinless thighs which saves a lot of work.

To each 1 kg of thigh meat I added:

60 gm Rusk
90 gm Chicken stock*
80 gm Spring onion/scallion
13.5 gm Salt
2 gm Ground white pepper
1.1 gm Ground coriander
1.1 gm Ground ginger
1.1 gm Ground nutmeg
*Reduce 225 gm homemade chicken stock to 90 gm by boiling it. At a push, use commercial stock making allowance for its salt content or water. Whichever you choose, ensure that it is cold.
Method:
Cut the chicken into pieces suitable for your mincer/grinder and weigh out the other ingredients. Mix the salt and spices together.
Mince/grind the chicken. I did this with a Kenwood chef mixer using the mincer attachment. I used the plate with 4.5mm holes. Had I used my larger mincer I would have made a coarser mix using a #6 plate.
Put the spices on top of the meat, then the rusk. Pour over the stock and mix it all well for a few minutes. You can use a food mixer (not a processor) like the Kenwood to do this if you want.
When it starts to get sticky add the spring onion (scallion) and mix it in.
Fill it into presoaked 24/26 sheep's casings; it will take approx 3.4m of casing per kilogram of sausage. Link and put them into the fridge overnight to bloom.