Many local farm suppliers are only too happy to sell you half a pig, usually rare breed; Gloucester Old Spot and the like. They generally weigh around 55-60lbs for the whole side before boning and making it into whatever pieces you require.
For curing, I wanted a side from a much larger pig, a 'baconer'; a side of this will weigh between 80-100lbs. I got one from Don Hutton at Warwick Bridge Farm, Littlethorpe weighing 93lbs which has given me 75lbs of usable meat (60lbs excluding hocks, trotters, liver, heart and cheek). By the time it's converted into ham, bacon, sausage, faggots etc I'll have about 70lbs of edible products. This photo of a piece of loin being dry-cured for back bacon shows the size of it.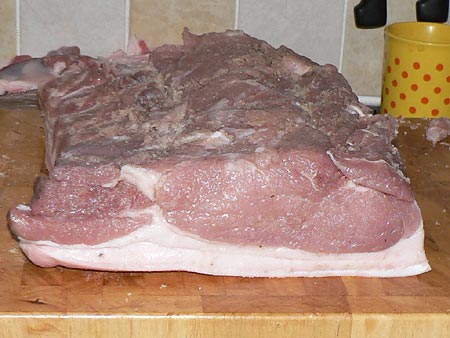 Pancetta
I've made all the usual things like bacon, ham and sausage and decided that my first venture into air drying meat would be pancetta. This Italian streaky bacon is made by dry curing bacon with a load of spices added to the cure, and then hanging it up to dry for a month or so – apart from the spices, that's how we made bacon a few years ago!
Firstly, take a nice chunk of belly pork: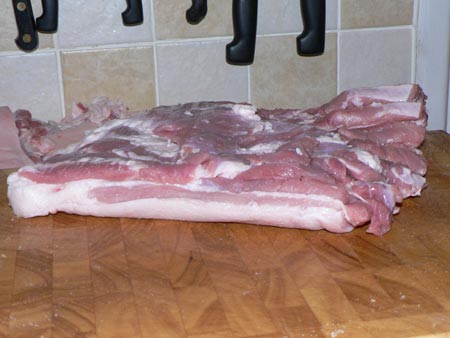 Make up the following cure:
Weigh the meat and mix the following percentages of its weight.
Salt 2.4%
Black Pepper 1.9%
Brown Sugar 1.1%
Cure #2 – 0.24%
Juniper 0.43%
Bay Leaves 0.07%
Nutmeg 0.19%
Dry Thyme 0.12%
Garlic 2 cloves per kg
You can buy cure #2 from Weschenfelders. You will need scales accurate to at least a tenth of a gram to weigh it. These can be bought cheaply on ebay for about £10.
To help with the calculations there's a calculator for this pancetta here:
Rub about 10% of the mix onto the skin side of the meat…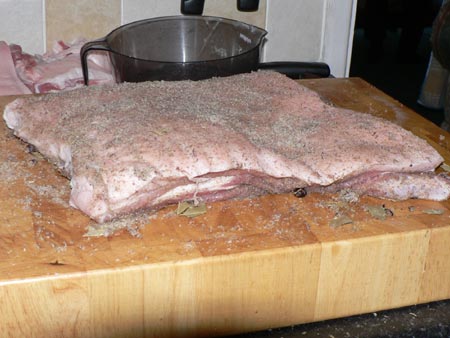 and the rest into the flesh…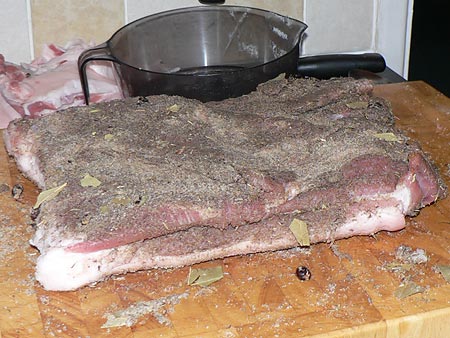 Rub it into all the 'nooks and crannies' (that's 'nooks and crannies' Not 'crooks and nannies'!) and then stuff the lot into a plastic food grade bag and put it into the fridge for a week or so. Turn it over every day or two.
It'll be interesting to see how this comes out as this cure recipe from the Cured Meats blog has one of the highest levels of spices and herbs that I have seen in a pancetta cure.
The Pancetta was left to cure for a week in the fridge at a temperature below 8°C .
It was then rinsed briefly in cold water, dried off and coated with a light dusting of black pepper, bay leaves and a little dried red chilli.
It was then hung at 12-15°C with a relative humidity of around 70% until it had lost 30% of its weight. This took about a month.
It turned out really well. This is the proper job – not the stuff you get at the supermarket, that's basically streaky bacon with an inflated price tag and under 10% weight loss. For eating raw I would have dried mine even more.
I sliced some of it thinly for wrapping around chicken etc, and done some in larger pieces for flavouring casseroles and the like.
Needless to say, I forgot to take pictures so this one of it in a vac-pac will have to do. It would, of course, keep perfectly well in the piece in the fridge, I just find it easier to slice it all at once.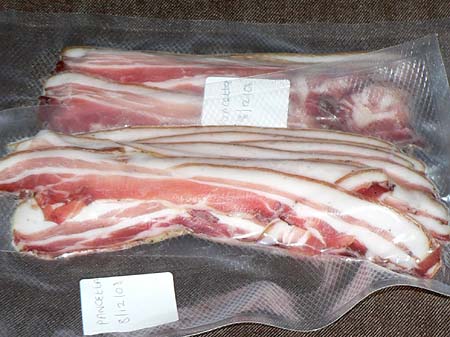 Pancetta is a brilliant way to start curing meat at home and could be made successfully in a domestic fridge. The results are certainly worth the effort.