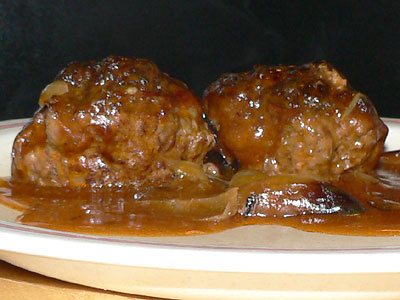 An article in the Farmers' Guardian titled 'Offal renaissance to boost livestock industry' reminded me that I had a bag of pig's 'bits' in the freezer, ready for making faggots.
I used this recipe by Antony Worrall Thompson. Unlike many others, it doesn't boil the meat before mincing. I amended the recipe slightly adding more sage, and parsley instead of chives. The gravy was made using stock, tomato puree, and soy sauce for colour thickened with a roux – my wife cannot have anything with wine in it.
I'm pleased with the end result and Emma, my younger daughter loves them – better than Brains dad! Not that that would be difficult! They are very much the 'faggot and gravy' type rather than the firmer faggots many local butchers prepare – I like that type sliced and fried.
Next time I'd add even more sage and cover them in the later stages of cooking, but all in all, I'm very satisfied.