I thought I'd have a go at making a 'burger type' soft roll, minus the sesame seed 'cos I've run out!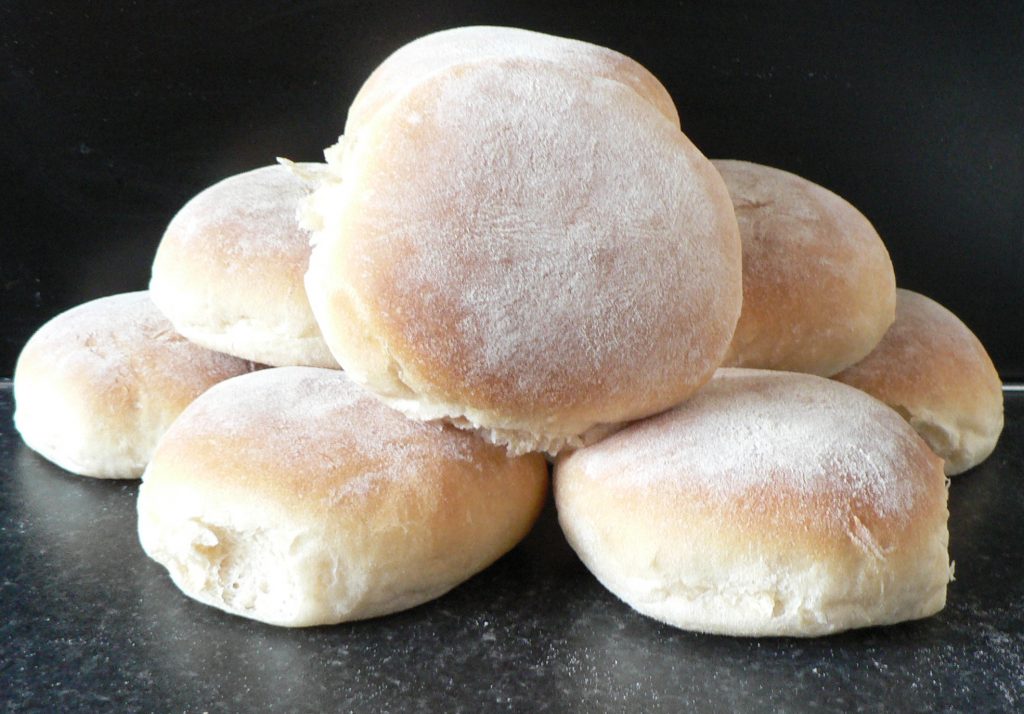 Time has moved on since I first made these rolls in June 2008. The recipe's changed slightly. Rather than confuse things with a new article, I've amended the recipe below.
Ingredients for 9 large or 12 smaller rolls:
600g Strong Bread Flour
120ml Hot Water mixed with:
300ml Cold semi-skimmed milk (you want the total liquid to be about 35 – 37°C when you add it)
1½ teasp Salt
2 tablespoons Cooking Oil
1 sachet Fast Action Dried Yeast (7g)
Method

I make this using a Kenwood food mixer. But it's easily amended to make it by hand.
I put the flour into the bowl, then chuck the salt in and mix it with a spoon. Then I add the yeast and mix it again. Next, I add the oil and water/milk and stir it with a spoon until the ingredients are roughly mixed together. This is for no other reason than to stop the flour splattering everywhere when I turn the mixer on!
I mix it on a low setting using the dough hook for five minutes then I give it a rest for a few minutes and then mix it again for another 5 minutes. I tip/scrape the dough onto a floured board and bring it together into a ball using as little flour as possible. Into the now empty bowl, I put about 1 teaspoon of oil, put the dough back in, and rub it with the oil. I cover the bowl with a tea towel and forget about it for an hour or so.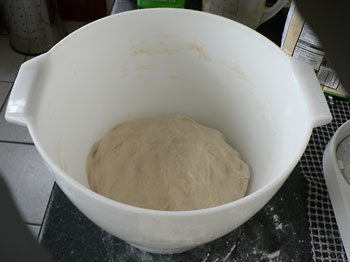 A word about the dough: This dough has a ratio of 70% water to flour which is higher than many 'traditional' recipes. It makes a lighter textured bread which most people nowadays prefer. You could make it by hand if you want to but be warned, this mix is very sticky! If you do make it by hand, persevere when you knead it and try not to add too much extra flour; just accept that your hands will be a sticky mess and get on with it. Knead it for a good 10 minutes until it is a nice 'silky' texture. Don't try and cheat at this stage or it won't be any good at all.
Rising the Dough:
Recipes generally tell you to leave the dough in a warm place, an airing cupboard, or something similar, for about an hour, until doubled in size. It may take an hour. It may take longer. What I do is judge by the size, not time. Ideally, the temperature should be about 26°C but I generally just put it to one side in the warm kitchen. As long as it's above 4°C the yeast will still be active; mind you, at that temperature you'd be starving by the time the bread rose and was baked!
When I say "doubled in size", I mean doubled in size: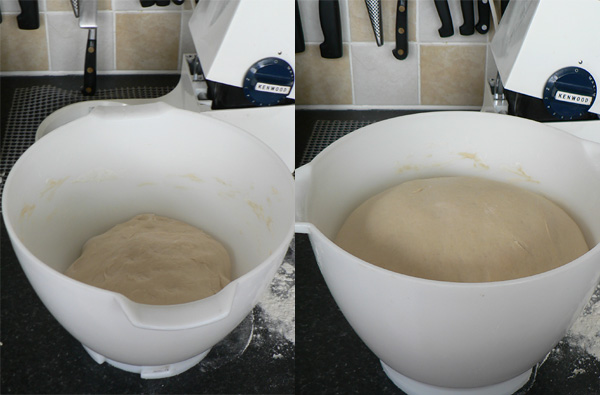 Shaping and proving the dough
Now for my favourite bit – just shove your fist into the middle of the dough. Yes, I mean it – just thump it in the middle. It'll collapse making you wonder why you bothered leaving it to rise in the first place! It's necessary, so just enjoy it!
Tip the whole lot onto a floured surface and work it around for 30 seconds or so, then shape it into a ball. Cut this into 12 even parts for small rolls, or nine for larger rolls for burgers. I flatten each piece out and fold the sides into the middle tensioning the under-side as I work around each piece. When the under-side is smooth and 'tight' I turn it over and push it down to make a flat disk with a smooth top.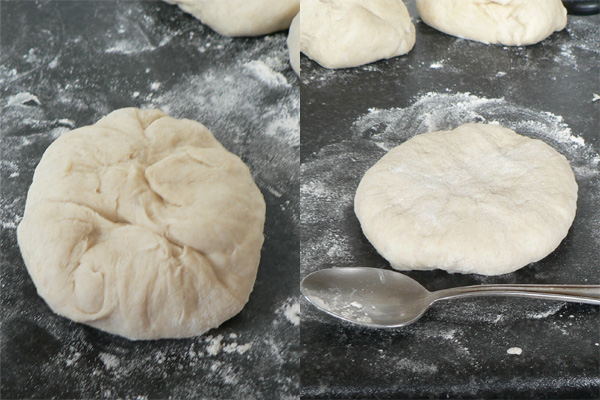 I then sieve some flour over the top. Alternatively, you could brush it with water and put sesame seeds, poppy seeds, or something similar on top.
I leave the dough now to rise again. When it's about half risen I put the oven on 180°C (160°C fan) to warm up. Many old recipes give a time for the dough to rise – say 20 minutes – what nonsense! Sometimes it's fairly quick, other times it may be an hour or so. What we want is for it to nearly reach its full size – the bigger the better – as long as it doesn't collapse! The pictured dough is of the smaller rolls after they've risen: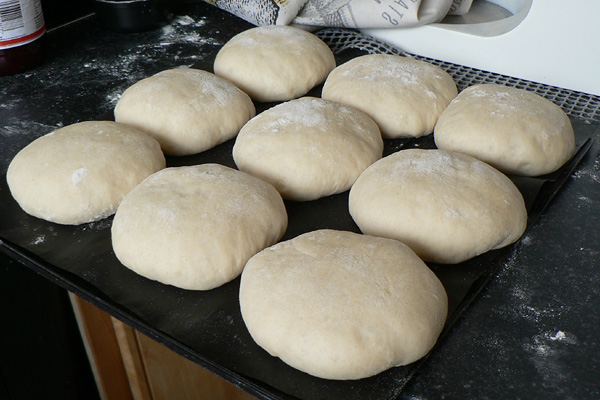 Cooking the bread
For a soft roll, I bake the bread at 180°C in a 'non-fan' oven; it works far better than a fan oven for soft rolls. I then cook them for 20 minutes and, if when I tap the bottom of the loaf it sounds hollow, it's cooked. If you only have a fan oven, it's hard to keep them really soft; it helps to cook them at a lower temperature, maybe 170°C or even 160°C, and to wrap them in a clean tea towel immediately after cooking.
These rolls are very light, have good keeping qualities, and freeze well.
For a crustier roll, have the oven at 220°C (200°C fan) and put a metal tray into the oven as it warms up. Immediately after you've put the bread rolls in to cook, put some water, say 150ml, onto the very hot tray to create a steamy atmosphere. Remove the water tray after 10 minutes.
The crustier rolls are best eaten on the day of cooking.