In 2013, I wrote:
It's quite amazing how certain foods are so local that even though you live in the County bordering those where they're made you've managed to get to 56 years old without ever having them.
The Derbyshire or North Staffordshire oatcake is such a one; it wasn't until about 6 weeks ago, on a visit to Hartington, that I had tasted my first oatcake. I've hardly stopped eating them ever since!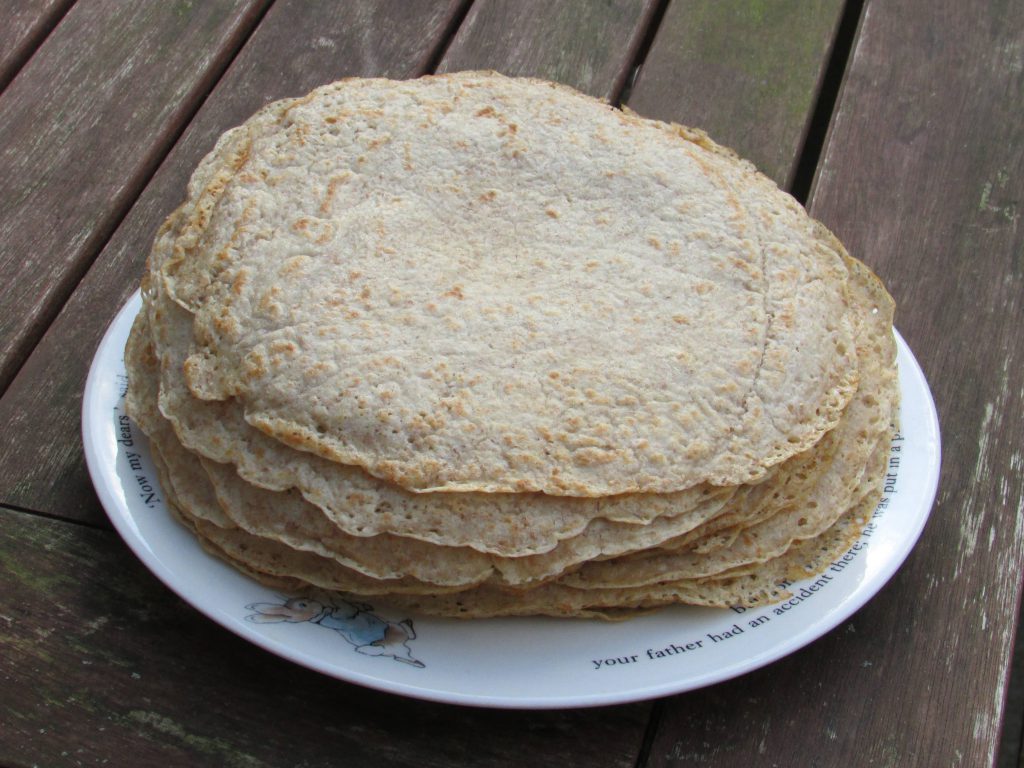 Unlike the biscuit that shares its name, the oatcake is soft. I'll leave the debate as to whether they're originally a Staffordshire or Derbyshire specialty to others, but certainly, Stoke on Trent is now its spiritual home. 'National Oatcake Day' is celebrated in the area on 8th August, and the local football club's fanzine is even named after them.
So, what is it? Well, it's a sort of egg-less oat pancake made with a yeasted batter: a 'Tunstall' tortilla' or 'Potteries paratha'! The traditional way of eating them is hot, folded over various fillings. The local potteries newspaper, The Sentinel, lists cheese and bacon as the favourite; bacon, cheese and tomato second, and plain cheese, followed by cheese and mushroom, third and fourth. Sausage in various combinations is also popular. The possibilities are endless and include sweet fillings such a vanilla custard and jam.
When I said I'd never tried one, I'd not only never tried them, I'd never even heard of them. It was only the threatened closure of the last oatcake shop selling 'through the window' that brought it to my attention. Regrettably, that battle appears to have been lost: Google street map shows the shop derelict and boarded up.
At the time, I thought that I'd get a recipe and make some but with no benchmark to judge by, I wouldn't have known whether they were anything like authentic. Having now tried them, I'm in a better position to judge; albeit they were the Derbyshire variety: Hartington is at least a mile into Derbyshire from the Staffordshire border! I joke. The ones I tried were definitely the Derbyshire variety, I was near the border in Hartington, but they were from a bakery in Chesterfield.
A quick look on the web and in my cookery books has produced a number of very similar recipes, often with the same recipes being quoted for both the Derbyshire and North Staffordshire varieties; it is, however, generally accepted that the North Staffordshire variety has a higher ratio of liquid to dry ingredients than those from Derbyshire.
The main ingredients are fine oatmeal, flour, yeast, water, milk, salt and sugar. However, within those the there are many variations: different types of flour, using all water, or a mixture of milk and water, the ratio of liquid to dry ingredients, and many more.
Fine oatmeal is not easily obtained, so I used standard porridge oats from the supermarket and ground it in a coffee grinder. I have some medium oatmeal that I'll grind the same way; it'll be interesting to see if there's any difference between the oatcakes.
Here's the recipe that I used. The ratio of basic ingredients is very similar to both the online and printed recipes that I've seen. I settled for a liquid level halfway between the amounts most commonly quoted for Derbyshire and Staffordshire varieties; this gives a medium thickness of oatcake. For thicker 'Derbyshire' ones, reduce the liquid to around 700ml, for thinner 'North Staffordshire' ones, increase it to around 850 – 900ml.
North Staffordshire or Derbyshire Oatcakes

225gm oatmeal
125gm Plain flour
100gm Wholemeal flour
7gm 'Instant' or 'Easy Blend' yeast (1 packet)
1 level teaspoon salt
350ml Water (around 37°C) – you may want to add slightly more if you like a thinner pancake.
450ml Semi-skimmed milk (around 37°C)

The recipe is easily adapted for vegans – just replace the milk with more water.

Mix all the dry ingredients together and gradually add the liquids, whisking to form a smooth batter. Leave it for an hour or so in a warm place 'till it there are lots of bubbles on top of it, a warm kitchen's fine.

Heat a pancake pan, or frying pan, over medium heat until hot. Grease it lightly with oil; I used a non-stick 24cm pancake pan and used an oil spray like this one to give a very fine coating of oil: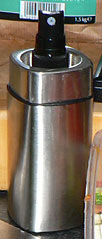 Pour, or ladle, approximately 75-100ml of the batter into the pan tipping the pan to spread it all over. Cook until the top looks dry and it's golden underneath. Turn it over and cook the other side. Repeat with the rest of the batter; it should make 12-15 oat pancakes.
A word about turning the oatcakes over. I find that by far the easiest way is to toss them. Trying to use a palette knife just results in a batter-wrapped palette knife! If an oatcake lands off-centre, I leave it for about 20-30 seconds before shaking the pan to centre it. This allows the oatcake surface to seal before trying to move it.
Whilst bacon and cheese is my favourite topping, I really enjoyed a cheese and black pudding one this morning: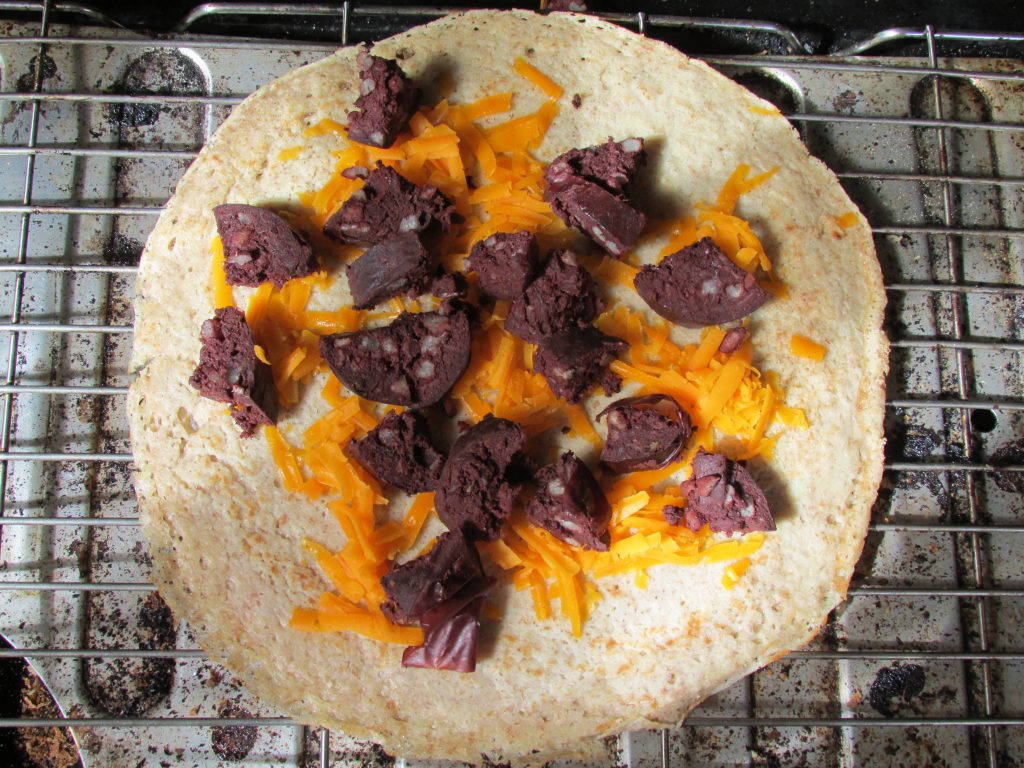 It may only have been rat-trap Red Leicester and a mass-market black pudding, but it tasted mighty good!