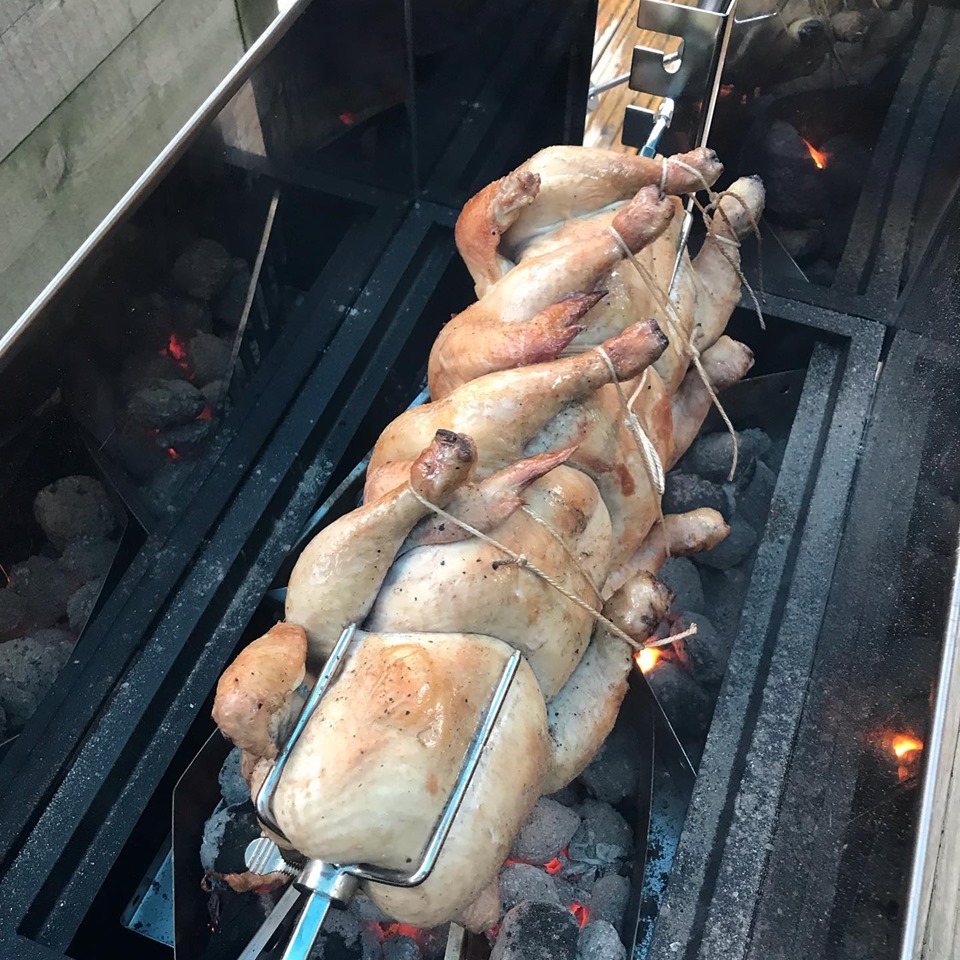 It was only 8 years ago that I wrote a post forecasting that barbecue would be the next big food craze to hit the UK. Amazingly, not only was I correct but the craze seems to have now filtered down resulting in a massive interest in all things barbeque on social media. TV chefs feature US-style barbecue in their programmes and pulled pork and brisket feature on both pub and home BBQers menus. Back then, I wrote:
Wasn't it George Bernard Shaw that said: "England and America are two countries divided by a common language"? Barbecue, abbreviated to BBQ, really goes to prove this.

What we know as Barbecue or bbq is generally referred to as grill or grillin' in the US. Their BBQ is a method of cooking meats for a long time at low temperatures. It often includes smoking the meat for part of the cooking time. Times of 10 or 20 hours are not unusual in this type of cooking.

BBQ guys take their hobby seriously and hold competitions where the prize-money can be 1000's of dollars. Although on the face of it the same as hot smoking, the temperatures are usually higher.

I can see this type of cooking being 'the next big thing' in the UK. We've already seen slow-cooked meats increasing in popularity with slow-cooked pork belly featuring on virtually every menu you see nowadays! Pulled pork, a classic BBQ standard, is featuring more and more in blogs and among the celebrity chef circuit. We've also seen a move towards better quality in burger joints and vans and an increase in general in the quality of street-food. This, accompanied by a number of TV programmes featuring US BBQ joints, such as Diners, Drive-Ins, and Dives, makes me think that this'll be the next culinary craze… …Oh, and also look out for the currently trendy use of brioche buns to be upstaged by buns cooked like pretzels.

I'm sure that this will also feed through to the home market – old and new suppliers will hurry to jump on the BBQ bandwagon. There'll be terms and equipment that we're not (yet) used to in the UK: Offset Smokers, Water Smokers, Oven (or box) Smokers and even Ugly Drum Smokers.

I'll write further about the options currently available in UK for both smoking, grilling and BBQ shortly.
I did write another post that explained the differences between the types of smoking and barbecue and the available equipment at that time. The post has been reposted here.
Wow, how things have moved on. There's equipment available now that we could only dream of then – unless you could make it yourself or had very deep pockets that is.
It can still be an expensive game but it doesn't have to be. There's far more equipment available across a range of prices and also more advice and support is available for people building their own equipment – not least because of social media groups on Facebook and the like.
It's great that so many more people are now cooking quality meals using barbecues. Yes, there are many who have just replaced a plate full of cheap meat products with a plate full of expensive meat products and yes, there's still an element of the UK equivalent of 'redneck' in attitudes to non-meat-eaters on some online groups. But, there are also more and more people using barbecues, in whatever form, to cook balanced meals whether meat or vegetable-based.
I have to say that although I've had a smoker that could produce barbecued food for years, it's only in the past couple or three years that I've cooked more barbeque and grilled food – since I bought a covered BBQ grill (Weber) and my nephew built me an Ugly Drum Smoker. I hope to write more of these in future posts. I'm by no means an expert but hopefully have a head start as I know a good number of people who are, including a very good friend from North Carolina who is my go-to for advice on traditional US-style barbecue.
I hope to post some traditional recipes, along with some alternative ideas over the next few months.