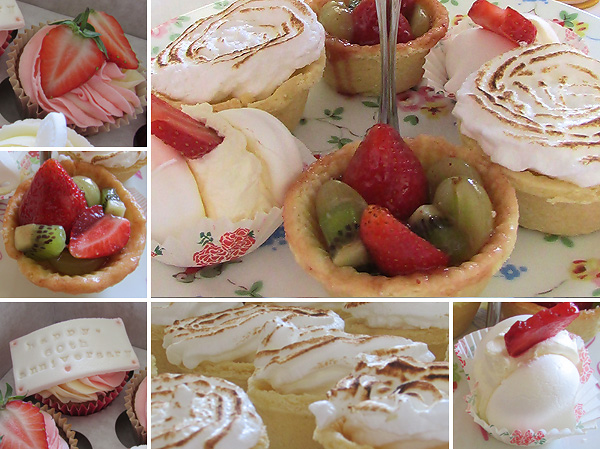 In 2014, I wrote:
Mum and Dad celebrated their Diamond (60th) Wedding Anniversary in 2014. As well as sending them to a local restaurant for a meal, we decided to have an afternoon tea.
For me, afternoon tea is lots of small patisserie and cake items; oh, and some token sandwiches beforehand. I'm not one for scones and cream as part of 'afternoon tea'; they're for other occasions when they can be enjoyed on their own. Now, we're not 'The Savoy', or even 'The Great British Bake Off', so I choose just a small selection of simple things: individual lemon meringue pies, fruit tarts, and meringues, along with cupcakes made by my daughter Hannah. The meringue uses up the egg whites left after the yolks have been used for the pastry and lemon meringue filling. Savouries were cucumber, egg, ham, and cheese sandwiches, some even had the crusts cut off!
'Ere, how come when it's lemon meringue it's a pie, but when it's fruit, it's a tart?
Never mind, what I do know is that with pies or tarts, it's all about the pastry – it needs to be strong enough not to fall apart but melt-in-the-mouth when you eat it. My method may not be the proper way but it works and results in a pastry case that's more like shortbread than pastry.
Continue reading

Pâte sucrée (sweet shortcrust pastry) and Afternoon Tea