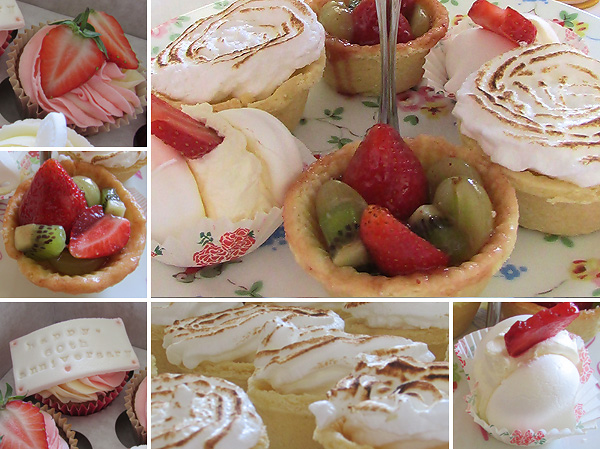 In 2014, I wrote:
Mum and Dad celebrated their Diamond (60th) Wedding Anniversary in 2014. As well as sending them to a local restaurant for a meal, we decided to have an afternoon tea.
For me, afternoon tea is lots of small patisserie and cake items; oh, and some token sandwiches beforehand. I'm not one for scones and cream as part of 'afternoon tea'; they're for other occasions when they can be enjoyed on their own. Now, we're not 'The Savoy', or even 'The Great British Bake Off', so I choose just a small selection of simple things: individual lemon meringue pies, fruit tarts, and meringues, along with cupcakes made by my daughter Hannah. The meringue uses up the egg whites left after the yolks have been used for the pastry and lemon meringue filling. Savouries were cucumber, egg, ham, and cheese sandwiches, some even had the crusts cut off!
'Ere, how come when it's lemon meringue it's a pie, but when it's fruit, it's a tart?
Never mind, what I do know is that with pies or tarts, it's all about the pastry – it needs to be strong enough not to fall apart but melt-in-the-mouth when you eat it. My method may not be the proper way but it works and results in a pastry case that's more like shortbread than pastry.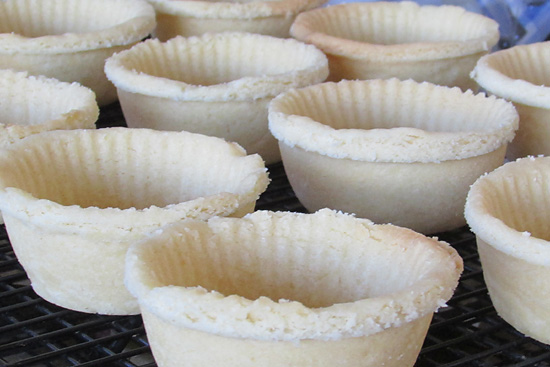 To be honest, it's a bit of a pig to make. It's very short and difficult to handle. To make it successfully don't over-mix the dough; don't add too much liquid; don't cool the dough too much, and lastly but very importantly, don't over-cook it.
I used deep tins for these cases and even my largest pastry cutter was too small so I ended up using the tin that my pastry cutters came in to cut the dough! I used plenty of flour when rolling the dough and rolled it thicker than I normally would – maybe 3mm – 4mm. And, I didn't trim the pastry once it was in the tin.
Instead of using baking parchment and baking beans, I use silicone muffin cases with another tin on top when I baked it blind. It's far quicker, simpler, and leaves a nice pattern on the inside of the cases.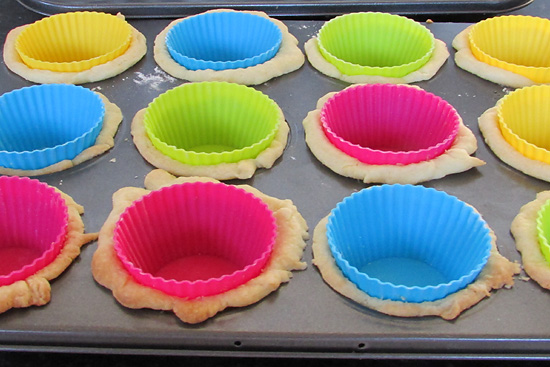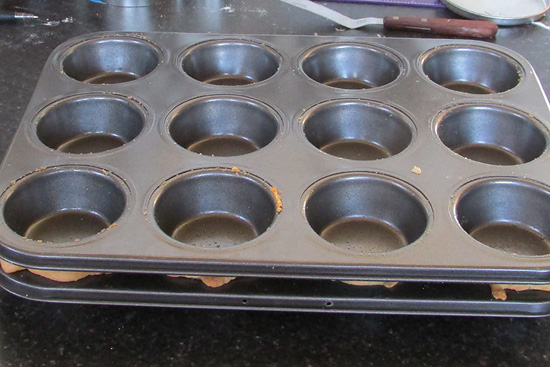 I baked these in my fan oven for 10 – 12 minutes at 160°C (320°f). They were soft when I took them out of the oven giving me the chance to trim the tops with a pastry cutter. They get firmer/crisper as they cool.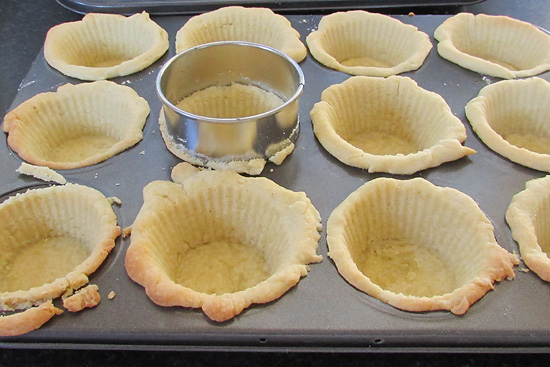 I left the cases for a while to set them before transferring them to a cooling rack.
The ingredients are:

8oz (225g) Plain Flour
3oz (85gm) Granulated Sugar
2½oz (70g) Lard
2oz (55gm) Butter
2 Egg yolks
up to 1 Tablespoon Milk
A pinch of salt
I make this in a food processor, if I were to make it by hand I'd use caster sugar.
I grind the sugar on its own to make it finer then add the flour, salt, and fats and process it until it resembles breadcrumbs. Most recipes say: "till it resembles breadcrumbs", but I always think that it looks more like damp sand! I then add the egg yolks and a teaspoon of milk and process it using the 'pulse' setting until it starts to come together. It may need another couple of teaspoons of milk and further processing to get it to form a ball. I put it into a food bag and leave it in the fridge for 20 minutes or so. However, I remove it from the fridge a while before I want to use it. It's more prone to cracking if you roll it straight from the fridge.