I love a sausage roll but blimey, you kiss a few frogs before you find a prince! Too many are absolutely dire; the sausage meat is like meat paste and what is it with that pastry that's neither short nor puff and is similar in texture to cardboard? I guess people tolerate it because they're relatively cheap and they're convenient.
As sausagemeat can be made without any fancy equipment they're a great project for making at home. I would normally mince the pork myself to make these but to illustrate my point I'm using bought pork mince for these. You could get this from your butcher, or as in this case, the local supermarket. If it's from your butcher ask for 80/20 visible lean. From the supermarket, buy the 20% fat pork mince, not the 5% fat one.
I assembled what I needed for the sausagemeat, most of the spices in the spice dabba won't be used on this occasion but they do add a bit of colour to the photo!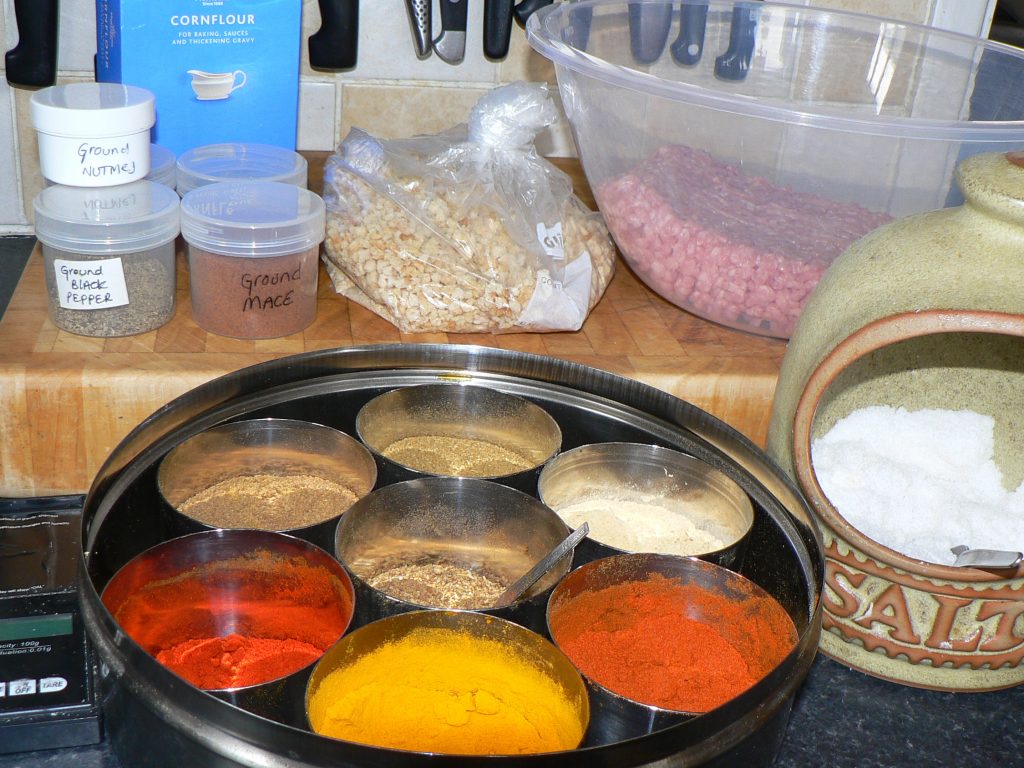 The ingredients for each kilogram of pork mince are:
280gm Water
180gm Rusk
22gm Cornflour
18gm Salt
4gm Ground white pepper
2gm Ground black pepper
1.5gm Ground nutmeg
1.5gm Ground ginger
1.5gm Ground coriander
0.5gm Ground mace
3gm Rubbed sage
To make things easier, there is a calculator at the end of this post.
Continue reading

Sausagemeat For Rolls